Upcoming Programming
2020-10-06 11:01:39
Upcoming Programs:
Goblin Punks!
Come to the Talen Community Room on Saturday August 20 at 10:30 to play the table top role playing game (TTRPG) Goblin Punks! Anyone ages 11-17 is welcome, and no prior experience is necessary. Lily Jampoler will be your game master - email her at swampstrawberries@gmail.com if you have any questions!

Donna Kersten: Lakota Sioux heirlooms and artifacts
Join us on Wednesday, September 14 at 2:00 to hear Donna Kersten speak on her trip to Timberlake South Dakota. She went there recently to return family heirlooms and artifacts belonging to the people of the Lakota Sioux. She will have photos to share.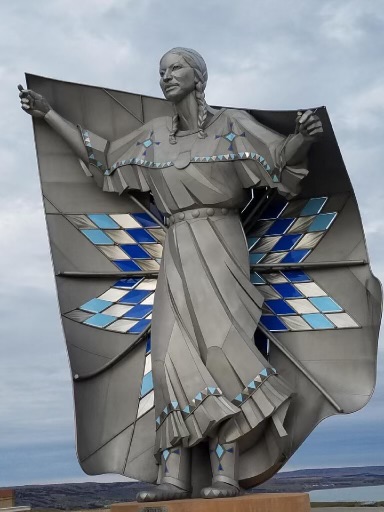 The Statue of Dignity represents the courage, perseverance
and wisdom of the Lakota and Dakota culture in South Dakota
Linda McCann: Civilian Conservation Corps
The Civilian Conservation Corps was established by President Franklin D. Roosevelt in 1933. It allowed single men between the ages of 18 and 25 to enlist in work programs to improve America's public lands, forests, and parks. Join Linda McCann on Wednesday, September 28th at 2:00 as she shares memories of 15 men who were in the CCC.
Rex & Phyllis McKee's Moose Hunt Experience
Join us on Monday October 10 at 2:00 to listen to Rex and Phyllis share photos and stories of their experiences hunting Moose in Newfoundland, Canada.
Watercolor Painting with Stephenie Bellwood is taking a break for July and August, but we hope to resume in the fall!
We meet in the Talen Community Room, and no prior watercolor or painting experience is necessary! You will learn some basic techniques, and go home with your beautiful original painting! No cost or sign-up is necessary!
Example of what we painted on June 23rd: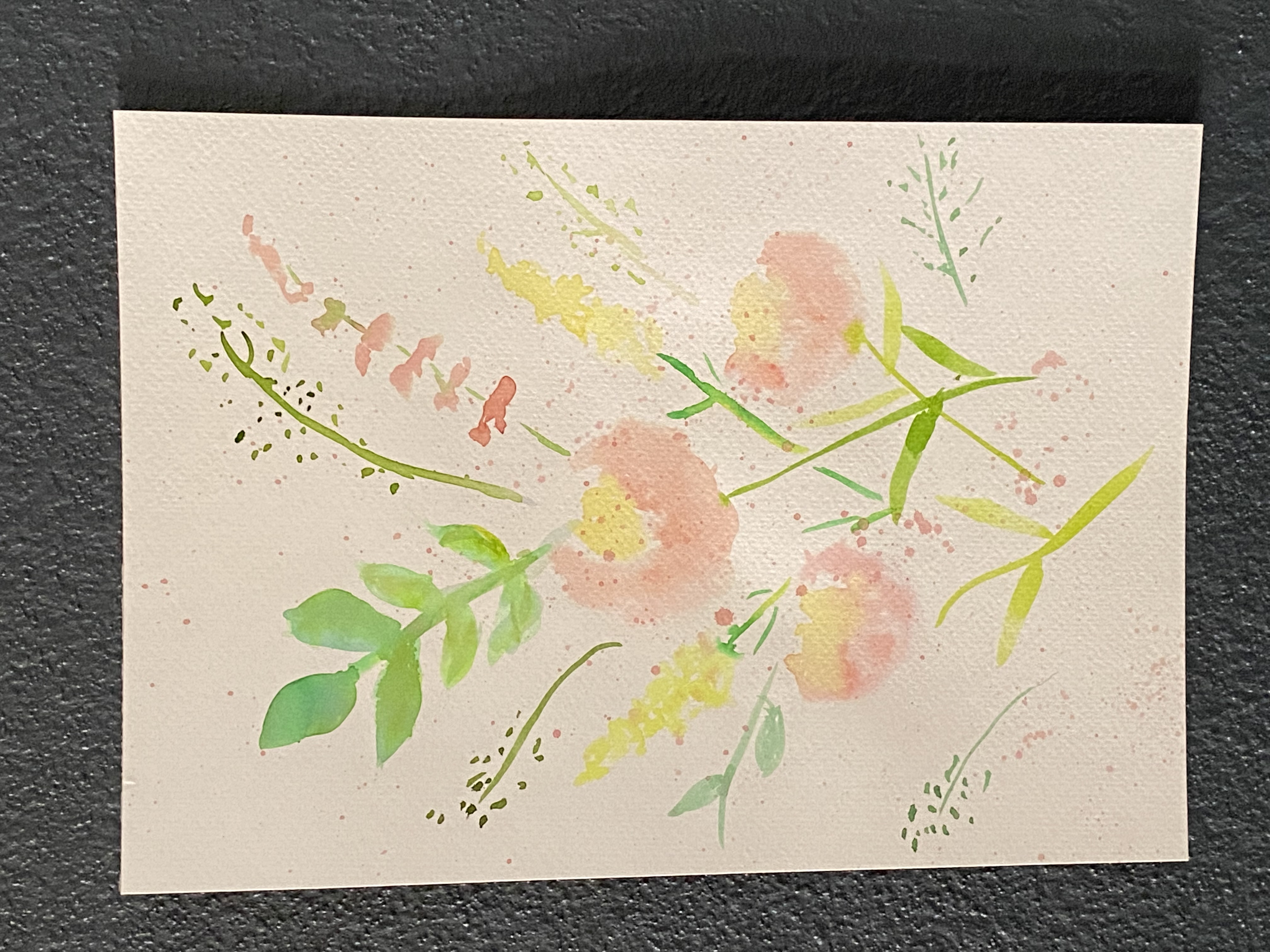 Past Programs:
2022
Thurs. Jan 27 - 2:00p Down & Dirty Gardening Group: Cheryl Bruene - starting seeds & container gardening
Thurs. Feb 3, 10, 17 2:00p Watercolor Classes w/ Stephenie Bellwood
Mon, Feb 14 - 2:00p You Decide: Keto and a Healthy Diet with Deb and Craig Gingrich
Thurs. Feb 24 - 5:30p Library Presents NT Speech Students **cancelled due to bad weather
Wed. Mar 2 - 12:00p Lunch & Learn Webinar w/ ISU Extension - Beekeeping
Wed. Mar 2, 9, 16 - 3:00p 5:00 Kids in the Kitchen Session 3
Mon. March 7 - 2:00p Elder Abuse Awareness and Prevention - Northeast Iowa Area Agency on Aging
Wed. March 9 - 5:30p-7:00 Sewing 101 with Heather Breja
Mon. Mar 14 - 2:00p Sign Language with Kathleen Keefer
Wed. Mar 16 - 12:00p Lunch & Learn Webinar W/ISU Extension - Monarch Habitat
Thurs. Mar 17 - 2:00p IowaWORKS program on Changes to Unemployment Benefits
Thurs. Mar 24 - 2:00p Rain Barrel Making with Naturalist Brendan Kelly
Thurs. Mar 24 - 5:30p Watercolors 101 - Evening Edition
Tues. Mar 29 - 2:00p Living with Dementia - Featuring Kevin Dill, and Becoming a Dementia Friend with the Northeast Iowa Area Agency on Aging
Wed. Mar 30p Lunch & Lear Webinar w/ISA Extension - Planning a Cutting Garden
Thurs. Mar 31 - 6:00p My Publishing Journey with Sue Ewoldt, sharing her book Huxley and Howard
Mon. April 4 - 6:00p Genetic Genealogy: DNA & Family Trees with Judy Mitchell
Wed. Apr 6 - 12:00p Lunch & Learn Webinar W/ISU Extension - Landscaping: Planting Design Tips
Mon. April 11 - 2:00p Booking a VRBO w/ Cheryl Wauters
Wed. April 13 - 2:00 p NEI3A - What Can our Agency Do for You?
Wed. Apr 20 - 12:00p Lunch & Learn Webinar W/ISU Extension - Landscaping: Planting Design Models
Wed. Apr 27 - 12:00p Lunch & Learn Webinar W/ISU Extension - Landscaping: Planting Design Graphics
Thurs. Apr 28 - 5:30 Watercolor Painting with Stephenie Bellwood
Wed. May 11 -2:00 Funeral Information for Today with Todd Kruse
Thurs. May 25 - 2:00 Making a Butterfly House w/ Brendan Kelly
Thurs. May 25 - 5:30 Watercolor Painting with Stephenie Bellwood
Wed June 8 - Garden Walk 3:30 Laurie Schafer
Thurs. June 9 - 7:00 Prepping and Preserving Produce with Laurie Schafer and Sharon Kern
Tues June 14 - 2:00 Summer Teen Bok Club
Wed June 15 - 4:30 Garden Walk Dennis & Kelly Deke
Tues. June 22 - 6:30 How Iowa Met Baseball with John Liepa
Thurs. June 23 - 3:30 Garden Walk Linda Gowdy & Suzie Reichmann
Thurs. June 23 - 5:30 Watercolor Painting with Stephenie Bellwood
Tues. June 28 - 2:00 Summer Teen Book Club
Wed. June 29 - 3;30 Garden Walk Adam & Elyse Clapp
Wed. July 13 - 2:00 Graphology, the study of Handwriting with Leesa Talbot
WEd. July 13 - 3:30 Garden Walk David Draper, Linda Peters, Connie Draper
2021
Thurs., Jan 28 - 1:00p Down and Dirty Gardening Group: Buying seeds, which catalogs, stores or brands are your favorites
Thurs., Feb 25 - 1:00p Down and Dirty Gardening Group: Garden Layout and Companion Planting
Thurs., March 25 - 1:00p Down and Dirty Gardening Group: Planting seeds from last year's crops; marking your garden
Mon., April 19 - 6:00pm Virtual COVID-19 Vaccine Informational Session via YouTube
Thurs., May 6 - 5:30p Pinterest Night "Wipe COVID From Your Shoes" welcome mat
June: Art Display - Linda Powell: Watercolor and acrylic painting; barn junk sculptures
Tues. June 15 – 4:00p Vicki Pecenka Garden Walk
Tues. June 22 – 4:00p Donna Kersten Garden Walk
Tues. June 29 – 4:00p Paul Wendt Garden Walk
Wed June 30 – 2:00p Yoga presentation by Ellen Stoakes
July: Art Display - David Draper: Santas
Tues. July 13 – 4:00p Lyla Whannel Garden Walk
Tues. July 20 – 4:00p Kathie Manfull Garden Walk
Tues. July 27 – 4:00p Ernie & Julie Cufr and Jared & Marilyn Bauch Garden Walk
Wed. July 28 – 11:00a Chiropractic Care and Common Ailments in the Older Population w/ Dr. Ashley Reid
August: Art Display- Patrons displayed what they've been busy creating at home during COVID
Mon. Aug 23 - 2:00 You Decide! Drinking Water options
Mon. Sept 13 - 2:00p Salsa Party! Salsa making demonstrations and tasting
Wed. Sept 29, Oct 13 & 27 - 3:00-5:00 Kids in the Kitchen Session 1
Wed. Oct 6 - 10:15 Coffee with a Cop - special Story Time program
Wed. Oct 20 - All Day Volunteer Appreciation Open House
Mon. Nov 1 - 5:30-7:00 Pinterest Night: Christmas or Winter painting on wood
Wed. Nov 3,10,17 - 3:00-5:00 Kids in the Kitchen Session 2
Mon. Nov 8 - 2:00 You Decide! "Milking it! - comparing different types of milk
Fri. Dec 3 - 5:00-6:00 Santa & Mrs. Claus greeting kids in Library
Fri. Dec 3 - 6:00 Santa reads Twas the Night Before Christmas from the outside balcony
Wed. Dec 22 - 3:00-4:30 Kids Gift Making
Thurs., Jan. 16 – 2:00p Debunking Diets with Crystal Petersen
Thurs., Jan. 23 – 5:30p Budgeting and Getting Control of your Finances Chris Schafer
Wed., Jan. 29 – 2:00p Dr. Ashley Reid Alternative Health
Wed., Feb. 5 – 2:00p You Decide 'Milk vs Dark Chocolate'
Mon., Feb. 10 – 5:30p Boredom Buster Pork & Canvas
Thur., Feb. 13 – 2:00p How to Convince My Kids not to Put Me in the Nursing Home
Nancy Martin
Fri., Feb. 21 – 10:00a-4:00p Pillow Party – Making Pillow cases for hospital Cynthia Drajna
Tuesday March 17 – Locked Doors because of Covid – unlocked May 18 but no programming
Saturday, January 12 – 10:00a Levi LaRue The Ins & Outs of Instagram
Thurs., Feb. 14 - 2.00 Laurie Jackson Prairie Reconstruction
Thursday, Feb. 27 - 2:00p Ashley Reid CBD Oil – does it work, is it legal
Thurs., Feb. 28 - 2:00p – Instant Pot Roundtable
Mon, March 4 - 5:30p– Blackhawk Co. Master Gardener – 10 Most Common Gardening Mistakes
Wed., March 6 – Carolyn Adophs Farmers Markets
Thursday, March 7-

5:30p Hello Spring Pinterest Night
Mon., March 11 5:30p Blackhawk County Master Gardener
Tues, March 13 - 5:30p Brian Mahoney Tree Grafting
Thurs., March 14 – 2:00p

AirFryer with Rosanne & Laurie
Tues., March 26 – 6:00p Trent Reedy NT Visiting Author
Mon., April 1 – 2:30p Diabetes with Tama County Health
Wed., April 3 – 2:00p Everything you Ever Wanted to Ask a Realtor with Julie Elliot
Sat., April 6 – 9:00a Fancy Nancy Tea Party & Fashion Show
Mon., April 8 - 2:30p Diabetes with Tama County Health
Mon., April 15 – 2:30p Diabetes with Tama County Health
Mon., April 22 - 2:30p Diabetes with Tama County Health
Wed., April 24 – 2:00p Paul Wendt Greenhouse Tour
Thurs., April 25 – 2:00p Wild Edibles with Logan Roberts
Mon., April 29 - 2:30p Diabetes with Tama County Health
Mon, May 1 – 2:00p Trash to Treasure with Linda Sawyer & Sandy Holkan
Mon., May 6 – 2:30p Diabetes with Tama County Health
Mon., May 13 – 5:30p Aroma Therapy for Pets with Cindy Corwin
Thurs., June 6 – 2:00p Hyper-Tufo Planter
Thurs., June 9 – 5:30p Hyper-Tufo Planter
Thurs., June 27 – 2:00p Statue of Liberty with Paul Wendt
Wed., July 10 – 2:00p Ron Fencl Garden Walk
Sat., July 13 – 7:00p Cedar Valley Chamber Music
Wed., July 17 – 2:00p Vicki Pecenka Garden Walk
Thurs., July 18 – 6:30p Dulcimer Guy
Mon., July 22 – 2:00p Rock On – Adults Painting on Rocks
Thurs., Aug. 8 – 7:00p Kevin Wood & Luke Foster Concert
Thurs., Aug. 21 – 2:00p Lauries Country Garden Walk
Thur., Aug. 22 – 7:00p Grass Between the Rails with Dennis Rehder
Thurs., Aug. 29 – 3:30p Dorothy Thorne Garden Walk
Thurs., Sept. 12 – 1:00p Sauerkraut with the Shedas
Tues., Sept. 17 – 9:00a Donna Kersten Garden Walk
Wed., Sept. 18 – 2:00p Obituary Class with Joan Schafer
Wed., Sept. 25 – 2:00p Obituary Class with Joan Schafer
Wed., Oct. 2 – 2:00p Homemade noodles with Linda Dvorak
Wed, Oct. 9 – 2:00p Obituary Class with Joan Schafer
Mon., Nov. 4 – 5:30p Ladies Night In Advent Board
Wed., Nov. 6 – You Decide 'What is the Best Pie Crust'
Thurs., Nov. 7 – 10:00a Prohibition Brunch with Linda McCann
Wed., Dec. 4 – You Decide 'Homemade Cherry Chocolates or Store Bought
Fri., Dec. 6 – 5:45p Mr. & Mrs. Claus the Night Before Christmas
Thursday, January 18 at 2:00PM Taking Charge of Your Health with Teresa Lowe
Thursday, January 25 at 2:00PM Taking Charge of Your Health with Tom Wicks
Thursday, February 1 at 2:00PM Taking Charge of Your Health with Dustin Gaskin
Thursday, Feb. 1 7:00-8:30AM Free Heart Screening, Grundy Co. Hospital
Thursday, Feb. 8 – 2:00PM Health Minimums Getting the Most from the Least: Practical and Easily
Applied Ideas to Maintaining Health – Dr. Tom Wicks
Thursday, March 8 – Crystal Peterson Prediabetes Program
Tuesday, April 10 – Mark Moran Antiques Appraisals
Thursday, April 19 – Pinterest Night Patriotic Barn Quilt
Thursday, April 26 – Pinterest Night Patriotic Barn Quilt part 2
Thursday, May 3 – 5:30pm Joel Iseminger on Raised Bed Gardening
Thursday, May 9 –

2:00pm Donna Kersten Garden Walk
Thursday, May 24 – 2:00pm Linda Sawyer Garden Walk
Monday, June 11 – 5:30pm Logan Roberts on Ticks
Tuesday, June 12 – 4:00pm Cheryl Bruene on Composting for Beginners
Saturday, June 16 – 7:00pm Paxton Williams as George Washington Carver & Luke & Sarah Foste
Thursday, June 28 – 10:00am Kathy Weber Garden Walk
Thursday, July 26 – 5:30pm Diannne & Don Kramer Amish Program
Monday, August 6 – 6:30pm David Morrison on 2 years in China
Saturday, August 11 – 10-2 – Quilt Show
Thursday, August 16 – 7:00pm Dr. Chad Timm – Working with the enemy
Saturday, September 8 – 9:30am – Pinkalicious Pirate Party
Monday, September 10 – 5:30pm Happy Fall Pinterest Night
Thursday, September 13 – 5:30pm Drones by Nathan Eick
2017
Thursday, January 12 at 2:00pm – Tidying Up with Judy Mitchell
Thursday, January 19 at 2:00 pm – Estate Planning with Bruce Reinders
Thursday, January 26 at 2:00pm – Improving on the Realities of Aging with Tom Wicks
Monday, January 30 at 5:30pm – Pinterest Night No Strings Attached
Thursday, Feb. 9 at 2:00pm Feed & Training the Mind with Tom Wicks
Thursday, Feb. 16 at 1:00pm – Self Publishing Is not for Sissies with Linda Wiges
Monday, March 6 at 5:30pm – Pinterest Night Whimsical Beaded Bedspring Windchime
Thursday, March 16 at 1:00pm – Making the Perfect Kolach with Linda Dvorak
Thursday, April 6 at 2:00pm – Spring into Action with Tom Wicks
Thursday, April 20 at 2:00pm – Gardening with Pots with Donna Kersten
Friday, April 21 at 6:30pm – Folk Singer Adam Miller
Thursday, May 4 at 2:00pm – World Bank with Liz Bauch
Thursday, May 18 at 2:00pm – Estate Planning Revisited with Bruce Reinders
Thursday, July 20 at 7:00pm – Celtic Guitarist Jerry Barlow
Thursday, August 24 at 6:30pm – Unconditional Surrender with Pete Grady
2016
Wednesday, January 13 at 1:00pm – Glass Block Snowman
Thursday, February 4 5:30-7:00 Ladies Night Out, Valentine Craft
Wednesday, March 16 at 1:00pm Burlap & Bunnies
Saturday, April 16 at 10:00am – Pancakes & Poetry
Thursday, July 17 at 6:30pm – Iowa's Hidden Treasures with Dan Kaercher
Monday, August 22 at Noon – Pesto Party with Janet Wilson & Maxine Valenta
Thursday, August 25 at 1:00pm – The Stamp of Approval with Joan Schafer
Wednesday, September 7 at 1:00pm – Color Year Round with Donna Kersten
Monday, September 26 at 5:30pm – Pinterest Night Barnwood Art
Thursday, October 13 at 1:00 PM – Country Roads Air Brush Cookies Kim Knittel
Wednesday, November 2 at 1:30pm – Getting Started with Genealogy with Judy Mitchell
Thursday, November 3 at 5:30pm – Pinterest Night Christmas Joy
Monday, November 14 at 1:00pm – Accessorize! With Wendy Barns
Thursday, November 17 at 2:00 PM – Identity Theft & Fraud with Jeff Jacobs
Friday, December 2 at 6:30pm at 6:30pm – Union Carolers
2015
Make This Your Healthiest Year Yet Series:
Thursday, January 15 at 2:00pm.Dr. Tom Wicks
Thursday, January 29 at 2:00pm Rex McKee
Thursday, February 5 at 2:00pm Guia Palmer – Physical Therapist
Thursday, February 19 at 6:30pm Bailey King – Essential Oils
Saturday, March 7 at 7:00pm Celtic Guitarist Jerry Barlow
Thursday, March 12 at 2:00pm Donna Kersten Fairy Gardens and Terrariums
Monday, March 31 at 1:30pm Rex Mckee at Living Wel
Monday, April 6 at 1:30pm Pat Kubik & Nancy Monat – Organic Farming & Gardening
Saturday, April 25 at 10:15am – Frozen Party with Elsa
Monday, May 4 at 1:30pm– Storage Preservation & Storage with Sharon & Hannah Kern
Wednesday, May 12 at 2:00pm Make Your Own Cheese in 15 minutes with Laurie Schafer
Monday, June 8 at 1:30pm – Rex Mckee
Monday, June 22 at 1:30pm – Beginning Bee Keeping with Chuck Sharkey
Wednesday, July 8 at 1:00 p.m. – Beginning Chess
Wednesday, July 15 at 1:00 p.m. – Beginning Chess
Saturday, July 25 at 7:00 p.m. Cedar Valley Chamber Music
Saturday, August 8 10:00 a.m. to 2:00 p.m. Centennial Open House
Tuesday, August 25 at 1:30 p.m. Cynthia Dranja Oven Mitt and Potholder Class
October 5-October 23 Bar None Baking Festival
Wednesday, October 14 at 1:00 p.m. Joan Schafer Christmas Card Workshop
2014
Beginning Quilt Class – Tuesday, January 14, 2:00pm
Surviving Out of a Backpack with Ned Vaughn – Saturday, February 8 10:15am
Living Well – on going program – started February 2014
Grown Your Own Herb Garden – Saturday, March 15, 10:15am
Long Arm Quilting with Marilyn Kidd – Tuesday, April 15
Basic Pet Care with Dr. Nicole Knaack – Saturday, April 26
Bob & Sheila Everhart –Bluegrass & Folk Music – Thursday, July 10
Benjamin Maki – Civil War Display – Saturday, July 26
Quilt Exhibit (without Patience Griffin) – Sat., August 9
New Quilt Class – started September 9 – 12 people per class
Herbed Vinegars with Maxine Valenta – Thursday, Sept. 18
3 Card Making Classes with Joan Schafer – Sept. 24, Oct 1 & Oct 8 at 2:00pm
Investments 101 with Financial Adviser Jeff Peterson - Thursday, October 30, 2014 at 6:30pm
Disaster Preparedness with Ryan Currens - Saturday, November 15, 2014 at 10:15am
Holiday Concert with the Union Carolers - Saturday, December 6 at 4:00pm
2013
Sounds of the Season Holiday Concert – Saturday, December 7, 2013 7:00pm
Affordable Care Act – Thursday, November 14 at 6:30pm
Becoming Tech Savvy with Levi LaRue – Saturday, Oct. 19 at 10:15am
Pumpkin Recipe Contest – Friday, October 11 4:00-6:00pm
Beginning Card Making with Joan Schafer – Tuesday, October 1, 2:00pm
Master Gardener – Fall Gardening & Preparing for Winter, Saturday, Sept. 14, 10:15am
Our Fair is a Great State Fair – Thursday, June 13 at 7:00pm
Sounds of Spring Concert, Luke & Sarah Foster, Rhys Lloyd Talbot – Sat., Apr. 6 at 6:30pm
Landscape Iowa – Scott Cawelti – Saturday, March 9, 10:30am
Master Gardener – Getting Ready for Spring – Saturday, March 16 10:15am
Cake Decorating Class by Donna Kersten – Sat., Feb. 9 10:00am
2012
Festival of Song – Saturday, Dec. 1 7:00pm
Butter Pecan Toffee cooking Class with Maxine Valenta – Tues, Nov, 27