Early-Out Wednesday Programs
Do your kids need something to do on Early-Out Wednesdays?
Beginning September 6, every Early-Out Wednesday from 2:30 - 3:30, we are offering an activity or program for children in 4th-12th grades. Our Children's Librarian Miss Sue will have different games and activities available! Snacks will be provided!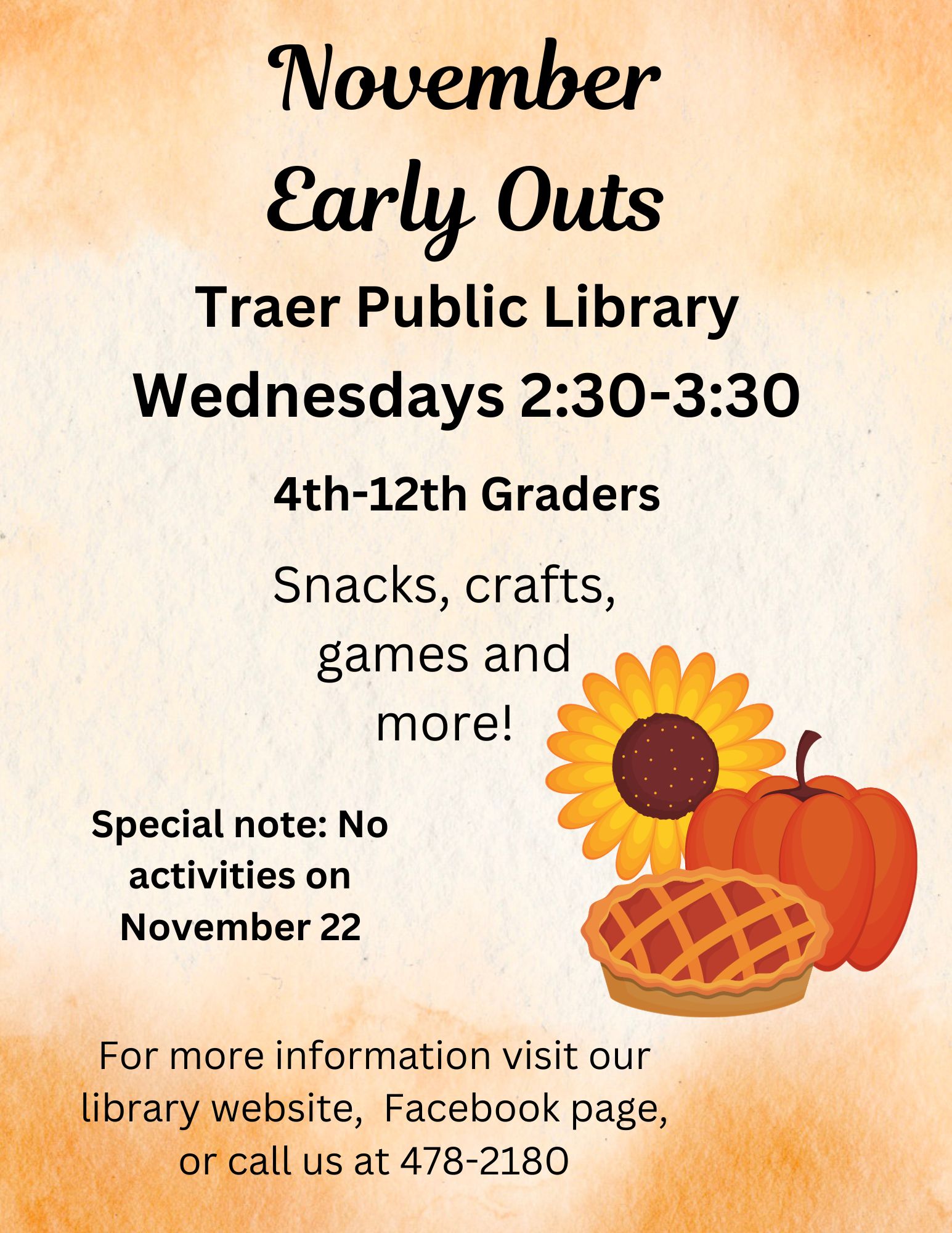 Books for Cooks!

Jenny Hulme with Tama County 4-H will be leading another set of cooking programs for grades K-5! These programs will be held at the Traer Library on the 1st Wednesday of the month (2:45-4:00 pm). Each session is approximately one hour and will include a story read, preparing a snack, physical activity as well as some type of activity/craft. And of course, the tasting of the prepared food as well as taking home the recipe.
These informal education programs are designed to teach children fundamental culinary concepts through integrated literacy activities that focus on kitchen skills. In addition, this exciting research-based program is designed to support Common Core English Language Arts Standards.
Learning objectives:
• Children will increase their willingness to try new foods.
• Children will explore culinary skills, using new tools, cooking techniques and kitchen
safety practices.
• Children will learn the importance of nutritional variety and the food preparation skills
needed to make healthy snacks and meals at home.
• Children will practice reading, writing, speaking and listening skills.

This is
free

in thanks to a grant from the Tama County Community Foundation.
September: Learn knife safety for chopping and dicing fresh produce. Book: The Foodie Flamingo by Vaness Howl Food: Salsa Fresca

October: Learn how to cut fruit and squeeze fruit to make juice. Book: Right this Very Minute by Lisl H. Detlefsen Food: Splendid Fruit Salad

November: Learn the importance of following directions when baking. Book: Lily and the Yucky Cookies by Sean Covey Food: Chocolate Surprise Cupcakes (need oven)

December: Learn how to flip pancakes with a spatula. Book: Lady Pancake & Sir French Toast: Misson Defrostable by Josh Funk Food: Oatmeal Pancake